This is a very good cost-effective alternative to higher cost digital monitoring systems. This is standard EIS on our Skyeryder II amateur built tandem, and an upgrade option on our P3 Lite Ultralight.
EFMS100 System highlights
All sensors are connected to the sender unit. Only 1 small cable connects to the display unit
Very low power requirements: Operates from the vehicle battery (e.g. 12V battery) or 1 small 9V battery
No additional battery required to save user configuration: all configurations and data are saved in FLASH memory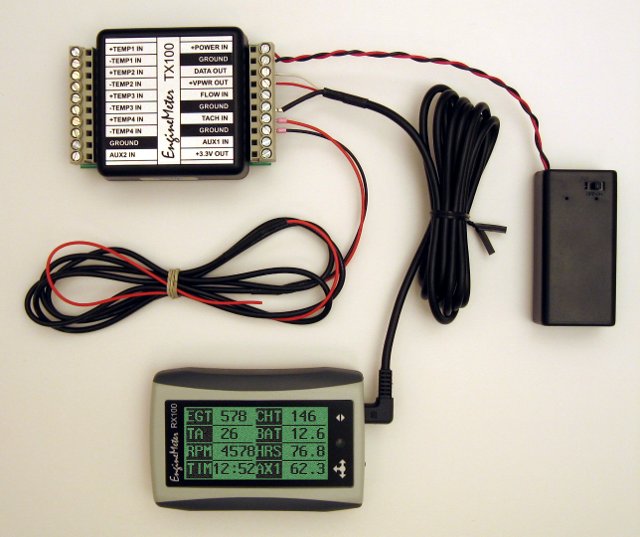 RX100 display unit highlights
Large, anti-glare, anti-scratch, high contrast, 128x64 pixels LCD display
Fully customizable parameter screen (parameter names, locations and character size)
Easy to use: menu driven interface with navigation button on the side
TX100 sender unit highlights
High quality terminal block connections ("rising cage design") allow you to use probes (EGTs, CHTs, etc...) from any vendor

Engine tachometer and hour meter

Supports all types of 2-stroke and 4-stroke engines
Sensor cable (provided) simply wraps around engine ignition wire

Temperatures
4 thermocouple inputs (EGT, CHT, water, oil, etc...)
Ambient temperature sensor built into the sender unit
Battery voltage: Monitors the vehicle battery voltage (or the voltage of the 9V supply battery).
Installation on Skyeryder II